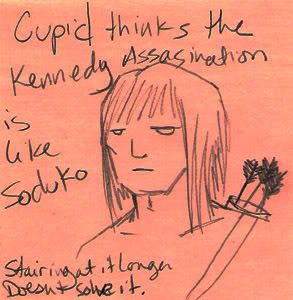 nother post-it doodle.
I'm feeling crappy. I think I'm getting sick with this warm weather crap. Plus I'm trying to work with my group on things and I'm doing a poor job of it.
I don't like the shows about the JFK assassination...conspiracy whatever, but I don't like UFO shows more.
Cupid also happens to think the shows are dumb. looks really manly...because...why not.